We all love to get a massage when our bodies are sore and tired, but sometimes because of time or finances (or both) this isn't possible. The solution? A variety of tools that you can use on your own to ease knotted muscles, overworked feet, and more. Some of them only require a little ingenuity and/or minimal cash, while others need to be purchased (but then they're yours forever!). Read on for some ideas to refresh and revive that dancer's body!
Free (or almost free)
H2O – Contrast Flush
We all know the benefits of hydration, but water is your friend in other ways-try doing a contrast flush for your feet and they'll feel like new! You'll need two receptacles for water (buckets are great, plastic wastebaskets can work too). Fill one with ice water (don't skimp on the ice) and one with hot water. Immerse your feet, alternating between the cold and hot water several times, staying in the cold for at least 30 seconds to 1 minute (harder than it sounds) and hot for 1-2 minutes. This can also be helpful for easing shin splints if you can find deep enough containers to immerse your lower legs.
H2O.2 – Ice Roller
This is a great one for plantar fasciitis (inflammation of the fascial band on the bottom of the foot) or simply for feet that are overworked and sore. Take a small disposable plastic water bottle, fill 3/4 full with water and freeze. Once frozen place on the floor and use it to roll out the bottoms of your feet. Freeze and re-use as needed.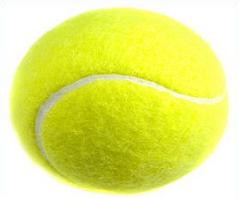 Tennis/Golf Ball
This can be gotten for free if you're in the vicinity of a tennis court or golf course and are will to scrounge for strays, but much easier (and not very expensive) to purchase at a store (sporting goods, Target etc) or online. These beauties are great for pressing into sore spots-put them underneath you as you lay on the floor, lean up against them on a wall, or roll them under your feet (golf balls are pretty hard so you may want to place a folded towel between you and the ball). Word of caution-avoid pressing into the spine or any other bony areas of the body.
Small investment needed
Commercial Self Massage Tools
Self massage tools come in many shapes and sizes, and can be found in dance wear and sporting goods stores, or online. You may have friends who already use them, and may let you try them out before you decide to buy!  A few of my favorites:
 Footrubz ball – a hard, knobbly ball that does wonders for sore feet
Rubz body massager – similar surface to the footrubz ball, but a different shape to allow you to hold it and press into sore muscles in legs, back, etc.
Stick rollers – There are a ton of these on the market and they come in a variety of sizes. They're made of plastic and have a center rod surrounded by spindles  with handles on either end. Spindles can be smooth or knobby-again, lots of variations to choose from! They're great for rolling over sore muscles and are especially good for working on the legs.
Foam Rollers – Foam rollers come in a variety of sizes and surfaces, and are made of a dense foam material (though the hardness can vary). You can use them to roll out tight muscles and connective tissue in the legs, butt, or back. You can also lay on your back along the length of the longer rollers, which allows tight muscles in the chest to stretch and broaden-great for counteracting the forward hunch that computer use or texting can cause.
Tutorials galore for all the tools listed above can be found on YouTube. Use common sense when using them, and remember to avoid pressing directly onto bone. Give one or more of them a try, your body will thank you!